Release Date: Oct 31, 2015
The Harpoons are an Australian four piece from Melbourne whose 'genre-bending melodies' and 'old-school soul vocals' channel the best of RnB, Soul and Pop music and bring their own unforgettable charm.
In September, The Harpoons debuted in Tokyo, playing six shows, 2 of them were special intimate acoustic shows at coffee shops Davide Coffee Stop and DEUS.
While they were in town, we took them around to 4 cafes in the Shibuya area and asked what they thought. Here's what they had to say.
Paul Bassett / Hikarie
This little place is rightly sitting next to all the most delish iconic sweets. We were like blown away by the ice lattes here. We melburnians are pretty smug about our extensive ice latte knowledge but these were up there with the best and made us very excited for Melbourne summer when we pretty much spend all day chain-drinking ice lattes in East Brunswick. The best coffee we'd had in Tokyo, by far. And the first cafe where we ordered a drink and they wanted to take their photo with us.
Shop information
http://en.goodcoffee.me/coffeeshop/le-chocolat-de-h-paul-basset/
café 1886 at Bosch
This was huge sleek space on the busiest road I have maybe ever seen. I remember thinking this place sums up what Japan is about- the fact that this place anywhere else would be tacky or poorly thought out but here in Japan every detail is so beautiful, so thought out. The german style food was totally spot on as was the espresso! I couldn't get over the enormity of the freeway flyover that was hanging over the entire area. I love bridges and would hang out here all day just for the view of the flyover!
Shop information
http://en.goodcoffee.me/coffeeshop/cafe-1886-at-bosch/
Coffeehouse Nishiya
We were all super charmed by the cafe owners here in their adorable official coffee maker uniforms, plus their antique curved bar- they do Italian coffee culture right here, the rigorous dedication to recreating the Euro cafe vibe totally pays off. I genuinely felt the Italian atmosphere – from the old style steaming jugs, to the outdoor seats arranged for watching passersby. Not to mention the place does simple cafe stuff, and does it great!
Shop information
http://en.goodcoffee.me/coffeeshop/coffeehouse-nishiya/
Son of the bar
This uber cool place appeared kind of surreal and mirage like when we were at the end of our energy, tired, sweaty and hungry – we were especially charmed by the Russian-Japanese-French girl who took our order singing jazz and twirling around a little bit. Not only were the sandwiches extremely hip they were also fucking perfect. Be sure to come back again and again and try every single one. We wished that we could. Would also recommend as a chic selfie spot. Make sure to seek out the Kendrick Lamar neon to pose under, or maybe just get one lounging on one of the perfect mid century pieces of furniture that contrast with the crisp as teal walls. It was so great to have some perfect american style filter coffee – this has been catching on in melbourne at places like The Queensberry Pourhouse (one of my faves) and it was good to ease the withdrawals!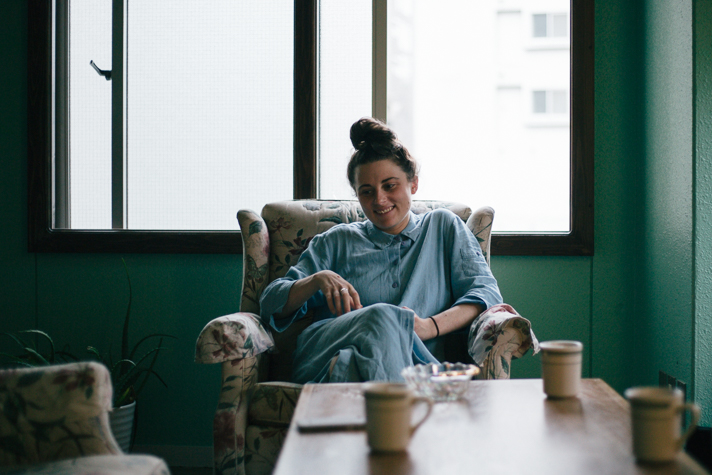 Shop information
http://en.goodcoffee.me/coffeeshop/son-of-the-bar/
The Harpoons are:
– Bec Rigby (lead vocals)
– Jack Madin (guitar, keyboard, vocals)
– Martin King (electronic beats, vocals)
– Henry Madin (bass, marimba, vocals)
Photography by Nik van der Giesen