Release Date: Jul 8, 2016
Vacant is an exciting space in Tokyo with a variety of events happening at the event space on the 2nd floor. Now, when you walk past you'll see the most stylist kitchen van parked out the front… with some slick espresso machines inside! We head there this week to meet and chat with the exciting team behind the new TO GO espresso van!
We launched at the end of 2014, starting off as "Roomette" which is a popular van, a one room hotel available to rent on airbnb. This project "To Go" is the next step, in which we have make a kitchen car serving only coffee, one which is more stylish and functional. The interior was done by Mingu Mokuhei along with Creative Director Jesus Salinas. "To Go" is part of our cafe racer project, where people can ride our small vintage bikes. This van is being parked at Vacant and when we're not serving you coffee, we will moving around to serve our races coffee.
When I was 18 I went to Brazil to play football, and I remember coffee coming out after the first half for us players to drink. I was pretty much hooked on coffee from then. When I returned home at the age of 25, I started working as a barista before moving onto Macchinesti Coffee to work as a roaster. I soon realized that machine maintenance is an imperative part of the whole process. So I worked solely on espresso machine maintenance for 4 years. During that time, I became very interested in the Lever Espresso Machines. And since then I've been custom building levers. In this "To Go" project, I recommend you try our espresso, which is inspired by the coffee you would drink in Italy.
yasushi kurotaki (operations)
I used to work at an Italian restaurant, and have been involved in coffee for about 3 years. I'm excited about making coffee here. I'm here to help support the taste that Tsuchiya-san is aspiring to achieve. There's a lot of foreigners coming here who are really enjoying the taste of our coffee. We've only been open here for a couple of weeks now, but I'm so happy that we've already had a lot of happy customers excited by the space and taste of coffee. We'll serve your espresso with some sparkling water for you to have to help you taste the flavors. We're using Izzo coffee this time with nine different beans in the blend.
kiyoshi kurotaki (producer)
I met Jimbo-san at Open Book (Golden Gai, Shinjuku), and heard about his stylish kitchen car. As producer of Vacant Bar, I was thinking about how to make Vacant more of a hub in the community. I'm hoping people can gather here around the van and have a good time, enjoy the taste and style of the coffee, and most importantly meet other people. I'm really happy to come together and work with Jimbo-san, Tsuchiya-san and Kurotaki-san on this project to showcase some of the latest things that are happening in coffee and mobile kitchens. Craft beer and some Japanese food might be added at a later stage. We're all looking forward to meeting you.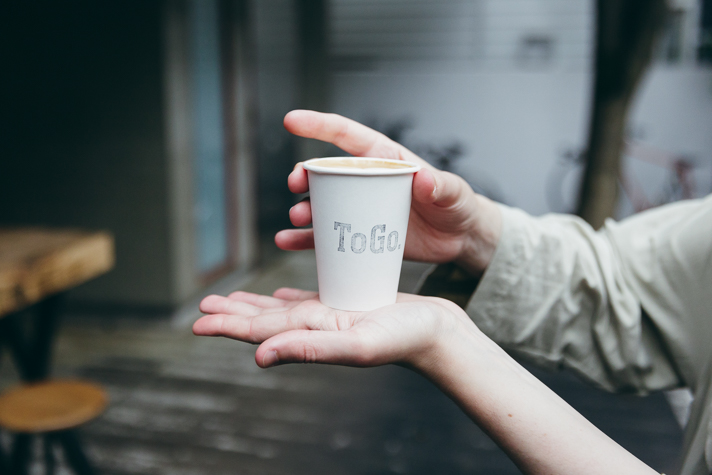 Shop Infomation
http://en.goodcoffee.me/coffeeshop/to-go/
—————