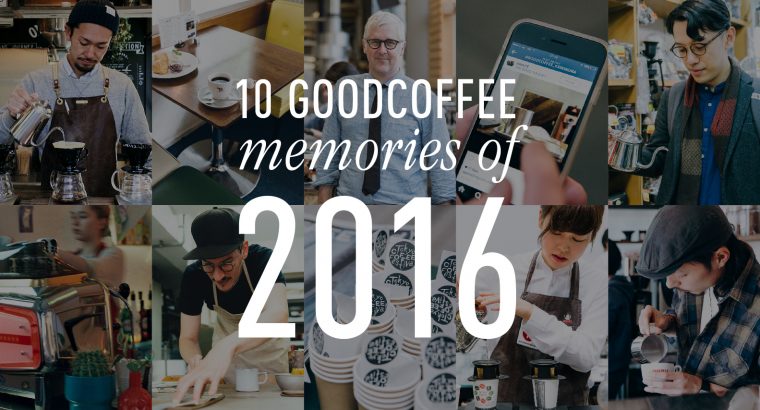 Release Date: Dec 31, 2016
To cappuccino off the end of 2016, let's revisit some of our highlights of this year. On the Good Coffee English site (en.goodcoffee.me) we try to bring you a column every week – interviews, area reports, event reports, guest columns, new shop openings – and here for you is this year's digest; my pick to form a little trip down caffeine-fueled memory lane.
ONE. Our instagram reached 20,000 followers.
Arigato-Affogato to those of you who follow our insta account (@goodcoffeeme). We upload pics of baristas making coffee, newly discovered shots, oh and don't forget our "snaps" taken by Nik van der Giesen. The most liked photo on our instagram was the video of when Tokyo saw November snow for the first time in 54 years. It was a short clip having a coffee outside on my balcony.
This probably won't surprise you, but the most commented photo on our account was of the original Omotesando Koffee being torn down. Many people commented with sadness and utter disbelief (photo below, credit: @bec_u). We felt your pain, but hope has been restored as Omotesando Koffee is reopening mid-January in the same location, under a new name (KOFFEE MAMEYA) with a brand new concept. I'll bring you more on this in the new year.
http://en.goodcoffee.me/column/vaughan/coffee-road-trip-part-1/
TWO. Traveling 3 hours for a cup of coffee.
The furthest we travelled for a cup of coffee was 3 hours in a friend's car to Tochigi prefecture to visit the two Shozo cafes. Meeting Shozo-san was an absolute joy as he is an inspiring figure in the coffee industry. Just as inspiring was meeting Hitomi-san; who had just come back from visiting 300 cafes in Europe. Check out the road trip column I wrote here.
http://en.goodcoffee.me/column/vaughan/coffee-road-trip-part-1/
THREE. "20 Questions with…" our new series!
We launched a 20-questions series for our "to-go readers"; for those of us who don't have time to read our lengthy articles. We've uploaded quite a few but check out the most popular one so far with James Freeman, CEO of Blue Bottle Coffee. James Freeman really is loved by one and all.
http://en.goodcoffee.me/column/interview/20-questions-with-james-freeman/
FOUR. One of the most popular instagram hashtags for coffee lovers.
We launched our first hashtag #goodcoffee_AREA – with the purpose of being able to find a good coffee wherever you are in the world. With the assistance from a lot of our users, you can now simply search on instagram for the hashtag #goodcoffee_AreaName (AreaName = the city/area you are looking for a good coffee shop in). We can't say that it's "gone viral" yet but it's certainly getting there. Check out more about the hashtag here, and please help by hashtagging a couple of your favourite cafes for other coffee lovers to become patrons of.
http://en.goodcoffee.me/column/vaughan/a-letter-to-everyone-who-loves-coffee/
FIVE. How to make better coffee at home.
What's your coffee set up like at home? It's a question that was often asked this year. And one of our most popular columns was all about it – written by Yozo Otsuki, founder of Kurasu. He shared with us some of the features of 5 of the best coffee items out there on the market today. Oh, and if you're in Kyoto, be sure to visit the Kurasu cafe. It's a gem!
http://en.goodcoffee.me/column/vaughan/5-unique-japanese-coffee-equipment/
SIX. Lots and lots of guest writers, around the world!
Speaking of guest writers, we had a lot of them this year. Definitely worth revisiting is the column on Impressive Cafe Designs in Tokyo written by Audrey Fiodorenko. Audrey's writing always strikes a chord with me and her photos are simply divine. I really hope she'll write for us again next year!
http://en.goodcoffee.me/column/audrey/impressive-cafe-designs-in-tokyo/
SEVEN. Making a coffee cup.
It wasn't just about coffee shops this year. I took part in a ceramics class, my first ever, and wrote about the whole experience at the quaint Teto Ceramics in Meguro. It was a private lesson for me, but I reckon this would make for a great first date. Have you seen the movie GHOST? Ok, sorry! The reference is too obvious, right!?
http://en.goodcoffee.me/column/vaughan/making-my-coffee-cup-at-teto-ceramics/
EIGHT. The unbelievably popular Tokyo Coffee Festival!
We brought you a photo report on the two Tokyo Coffee Festivals held this year. We were in among all the action capturing the booths and visitors. The festival has been nominated for a Sprudge Award in the category of "finest coffee events". Check out our photo report here.
http://en.goodcoffee.me/event/tokyo-coffee-festival-2016-autumn-photo-report/
NINE. We were also there for SCAJ at Tokyo Big Site.
We were also there for SCAJ; the biggest specialty coffee event in the whole of Asia. We watched Miki Suzuki (Maruyama Coffee) take out the Japan Barista Championship and we wish her the best of luck in next year's World Barista Championship. We also witnessed Yasuhito Kobayashi of Ogawa Coffee take out 1st place in the Brewer's Cup.
http://en.goodcoffee.me/event/scaj-2016-photo-report/
TEN. Clusters of coffee shops.
We did lots of 10 coffee shops in a certain area columns that have attracted lots of views on the web. Lots and lots of visitors to Tokyo want to know where the best coffee shops are in certain areas, especially the hubs. Here is our column on 10 shops in Shinjuku.
http://en.goodcoffee.me/column/vaughan/ten-coffee-shops-in-shinjuku/
Thanks again everyone for reading the columns and for your support through 2016. We look forward to bringing you lots of freshly roasted content in 2017. If you have any ideas for the site, or if any information needs amending, please get in touch with us through Facebook or Instagram!
Have a Happy New Year all!
Love, Peace and Coffee
Photography by Nik van der Giesen