Release Date: Apr 28, 2016
It's spring time. Which means it's time to take that someone special, somewhere special. And what better than a trip to the Shonan area, about an hour from Tokyo, comprising of areas such as Kamakura, Chigasaki, and Tsujido. After spending time in Tokyo, the first thing you'll realise when you hop off the train is the smell of the sea. That smell mixed with the freshly roasted coffee this area has on offer (next to your special someone…) and you've got a recipe for a very happy day. Here are a few places worth checking out…
27 COFFEE ROASTERS (Tsujido sta)
27 Coffee Roasters wins the award for the leading specialty coffee roaster in Shonan, and would be considered in the A-team of roasters in Japan. The owner, Kasai-san, visits Melbourne regularly to continue to be inspired, and after speaking with him it's easy to feel his passion. His staff are a testament to the way he runs his cafe/roastery, as they are all involved with the roasting of beans, and are more than happy to spend time speaking with all of the customers. You can taste the different brews before purchasing the beans (the way it should be!), and there are array of coffee equipment and unique coffee goods also available for purchase. And with an extension to the cafe scheduled for the summer, it's a must visit! (Keep an eye out on our site for a special interview with Kasai-san!)
Shop information
http://en.goodcoffee.me/coffeeshop/27-coffee-roasters/
PAN TO ESPRESSO (Tsujido sta)
Pan to Espresso is the first of two cafes worth visiting in the Shonan T-site shopping complex. T-site itself is incredible; similar to the Daikanyama T-site in terms of the range of books on offer, excellent architecture/interior, and the overall relaxing vibe. We have visited Pan to Espresso in Omotesando on numerous occasions, and the Shonan store also lives up to the hype of dishing up some of the best sandwiches and panini. The T-site store has their bread and pastries on display in boxes that open up against the wall. It's very unique! We order pour over, and it hits the spot. Pan to espresso, it's all in the name.
Shop information
http://en.goodcoffee.me/coffeeshop/bread-espresso-shonan-pan-to-espresso-shonan/
LIFE SEA (Tsujido sta)
Life Sea, the second (or, first!) stop in Shonan T-site is a personal favourite. With a store in Tokyo, which used to be home to the renowned Paddlers Coffee when they first set up shop, the establishment has a reputation of serving up great food and great coffee. On the elevated area, you'll be sitting on and at Truck Furniture from Osaka (which we look forward to writing a whole column about one day). If you close your eyes, you're definitely not at a cafe. You're out at sea free as a bird, or in some tranquil setting, perhaps even in the tree house…
Shop information
http://en.goodcoffee.me/coffeeshop/life-sea/
I DON'T KNOW COFFEE ROASTER (Chigasaki sta)
About a 15 minute walk from Chigasaki is one of the cutest tiny roasters we've ever seen. And you'll meet the loveliest English sheep dog. Unfortunately though, we visited on a weekday, which meant that only beans were for sale. If you'd like to try coffee there, it seems that you should visit on the weekend or on public holidays. There's a lot of coffee on offer, and when we asked for the owner's recommendation, he recommended everything saying that he only roasts blends that he likes. That makes sense. We bought beans and after arriving back in Tokyo we tried them and they didn't disappoint. We have no other choice but to be back next weekend to relax over a cup of joe on those 2 beautiful benches!
Shop information
http://en.goodcoffee.me/coffeeshop/i-dont-know-coffee-roaster/
THE GOOD GOODIES (Kamaura sta)
One of the cutest coffee stands in Japan is a stone's throw from Kamakura station. With only standing room inside, it reminds me of a Kamakura version of Melbourne's Patricia coffee. Today there's a choice of Ethiopia, Honduras and Mexico, as well as the original blend. And we try them all along with the Kinfolk-featured highly unique (and mouthwatering!) Pompon cakes selection (http://www.kinfolk.com/pompon-cakes/)
. There's lots of information on the noticeboard about up and coming interesting community events. It's one of those wonderful establishments to be a patron of.
Shop information
http://en.goodcoffee.me/coffeeshop/the-good-goodies/
YOSHINO (Kita Kamakura sta)
Just below Toukeiji temple sits this beautiful family owned and operated kissaten that has been in operation for over 35 years. And since the beginning, not a single part has changed. It looks relaxing from the outside, and it's just as relaxing on the inside. Like a lot of the kissatens, this stand alone house depicts something out of a Ghibli film. We order the siphon coffee (Guatemala) and it's the way we like it, dark and full bodied. We also wanted to visit and feature Kissaten Minka nearby, but that will have to wait until next Spring!
Shop information
http://en.goodcoffee.me/coffeeshop/kissa-yoshino/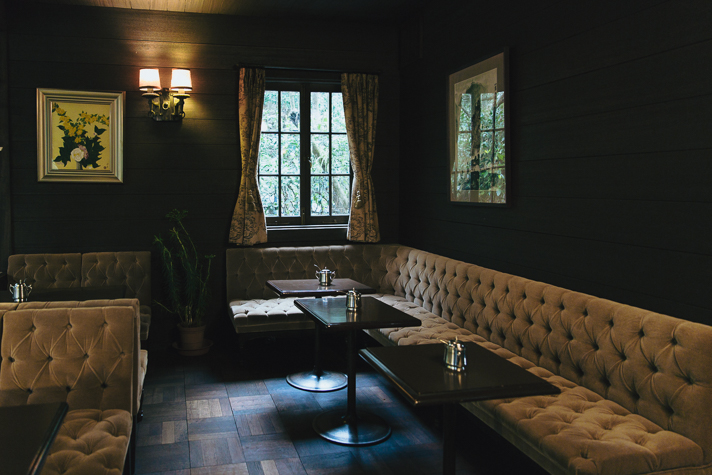 —————————————
Photography by Nik van der Giesen (@nvdg81)
Column by Vaughan