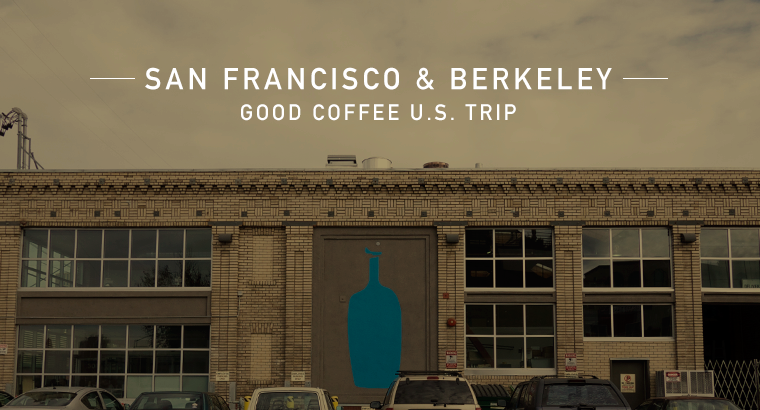 Release Date: Feb 12, 2015
West Coast USA, the origin of Third Wave
We took a coffee trip travelling around San Francisco & Berkeley
We, as the Good Coffee Team went on a trip to San Francisco for several days from the end of January, travelling around from the top of the list; Blue Bottle Coffee, the main attraction which has just set up shop in Japan; Ritual Coffee in Mission area; Sightglass Coffee; and other coffee roasters recommended by a coffee geek from Berkeley that can't be forgotten.
Basically, most roaster cafés use slightly light roasted beans for espresso drinks and pour over (brewed) coffee in their menu line-ups, which hold the impression of aiming to have fruitiness in their coffee by bringing out the original flavors.
According to one barista we spoke to, he said that there were shops inspired by Japanese tea and coffee culture (hand brewed, limited edition micro-lot roasts) and he seemed to be very excited when we told them we were from Japan.
Impact of Japanese tea and coffee culture given to the distant West Coast USA
Back in the days when Japanese tourists entered the USA, they came in via 'immigration' in San Francisco that led to the increase in population of Japanese and Japanese Americans in San Francisco and at the same time it is believed that 'Japan' was familiarized culture-wise.
With this in mind, we felt that it was natural for Blue Bottle Coffee, the focus of attention in Japan now, to adopt the UCC Siphon-type coffee maker.
Also, the decoration of 'flowers' were most impressive – which is a difference when comparing to Japanese coffee shops.
Each shop decorated flowers in a place that attracts attention and I remember feeling relieved to see beautiful flowers and the odor of the just ground beans even in shops around unfamiliar areas.
I would like to introduce the shop list that we toured around in the local area such as Blue Bottle Coffee, Ritual Coffee, Sightless Coffee, etc. in the next page. (To be continued)